You don't have to be an artist to find design inspiration in art.  Your favorite sculpture or painting can only create a wonderful focal point.  Art can set the mood or tone for a space, integrate ta bit of personality and inform your design style choices.   Here are some quick ideas as to how to create art as a focal point in your decor:
Choose a monochromatic color wall scheme in your space, neutrals always work best.  Highlight with a few accents using the colors dominated in the artwork.  However if you use color on your walls make sure the frames and the artwork such as photographs compliment and make the interior pop.
Choose elements from a piece of art that truly inspires you -even if you see it at a gallery and do not own it.  Choose the lines, colors and shapes from this artwork as an inspiration for your decor.
Color, proportion, texture, balance and rhythm are the core design principles that both artists and designers use in creating appealing designs.  In your decor, consider how your furnishings, fabrics, color and art are consistent with those principles without being "matchy/matchy."
Look for art work in uncommon places.  Galleries are not the only places to find artwork.  Look for local art festivals, home furnishings stores or even online resources to find artwork.   Look up artist groups and associations.  Art advisers like our partner The Artinista Art Advisory for assistance. While I advocate for the purchase of original pieces of art due to the increased value it brings, consider reproductions.  Also don't forget to incorporate photographs, sculptures and figurines.  These are also great accent pieces for any design.
To learn more about the integration of art and design, I invite you to our first event Art, Wine, & Design to take place on Thursday, August 1st at Room & Board.  The event is co-hosted by Kreative Ways & Solutions, LLC and our art partner The Artinista Art Advisory.   The purpose of the event will be raise funds to help improve the lives of young people and their families in Washington, DC.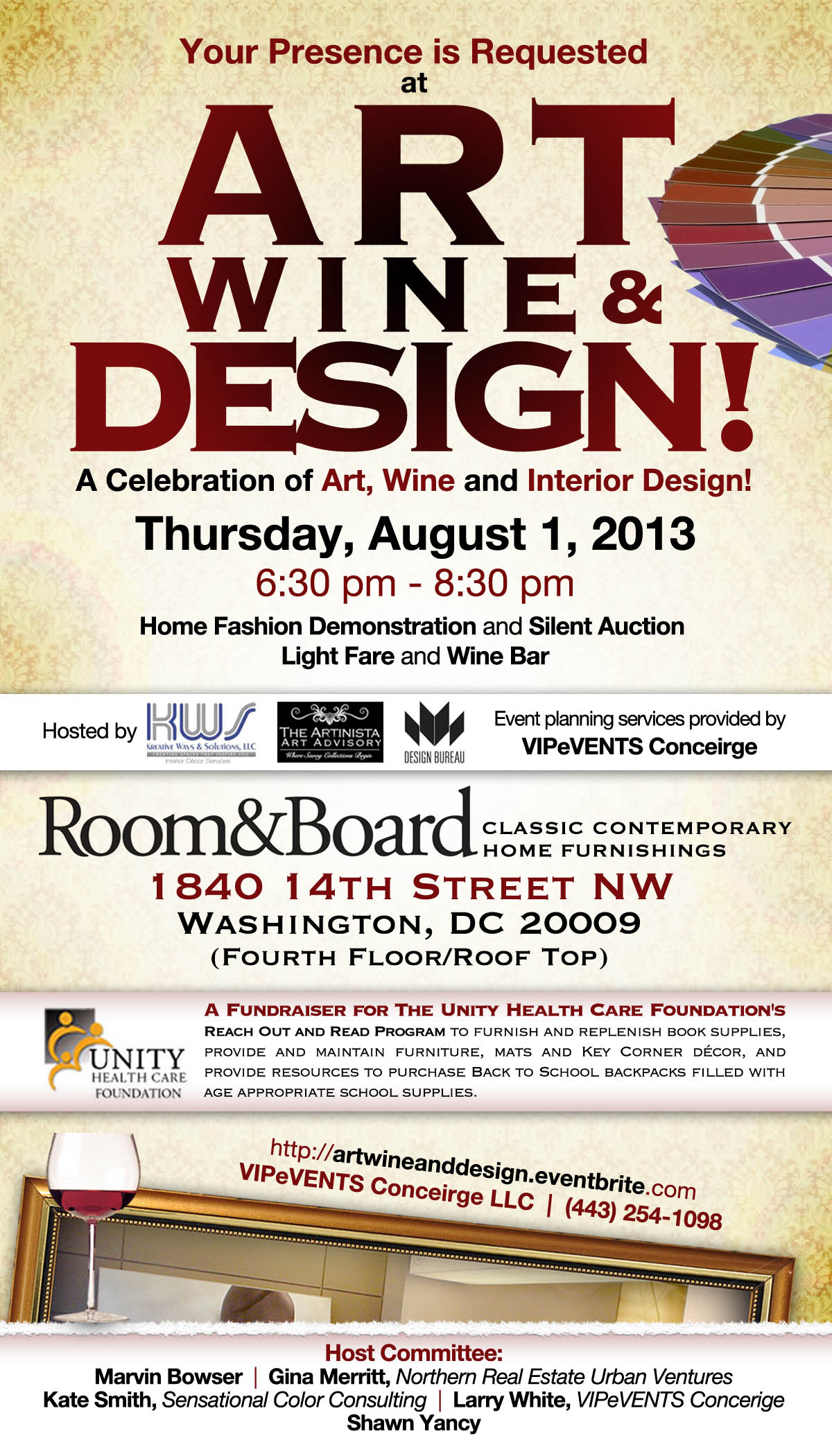 Our venue is hosted by Room and Board Contemporary Home Furnishings.  The evening will feature:
This evening will feature:
Shawn Yancy poses next to one of her unique mixed media abstract art.
–Artwork by Fox 5 DC News Anchor, Shawn Yancy..with a portion of the proceeds to support the Unity Health Care Foundation.  Miniature artwork by various artists are included in the price for each participant!

– Design in Print: The DC debut and introduction of the nationally critically acclaimed Design Bureau Magazine, the stylish and ultimate guide to design trends across the country.  KWS is one of 75 designers from around the world featured in this unique coffee table book about inspiring design from around the world.
– Special Edition Coffee Table Book by Design Bureau Magazine: Inspiring Interiors – A Collection of the Best Interior Design Around the World- Where You Live  (available for pre-order via the $50 ticket option).
– The Feel Good Space: A brief presentation on tips on how to combine art and interior design elements to create feel good space by Sherry Burton Ways of KWS and Sharon Burton of The Artinista Art Advisory.
– Wine and tasty light fare to indulge the palette!

– Mix and Mingle  with a select number interior design and fine art lovers in the DC area.

The benefactor, the Unity Health Care Foundation, is a 501 c3 organization that serves as the fundraising arm of the Unity Health Care System, which operates health clinics in some of Washington, DC's most underserved communities, providing primary health care and related services to families in need. Proceeds from this fundraiser will support the Foundation's Reach Out and Read Program, targeted to enhance literacy skills for youth ages 2-14 who visit the health centers.  Funds will be used to furnish and replenish book supplies, provide and maintain furniture, mats and Key Corner decor in one of their 29 health centers across the District of Columbia.
View a recent mural project for one of the Reading Corners as part of the Reach Out and Read Program, coordinated by Kreative Ways and Solutions, LLC at this link: http://youtu.be/8Q9xmB0wBKU
Please note: Tickets to this event is non-refundable and will be added to the total amount donated to the charity. 
Get your ticket today at the following website:   http://artwineanddesign.eventbrite.com/
I look forward to seeing you there!